AnaSmol
Naujokas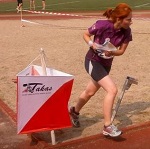 Joined: 16 Jun 2017
Posts: 4
Posts per day: 0.01

Posted: Thu, Jul 27 2017, 12:01

Post subject: Summer Challenge (Daugavpils, Latvia)

---

Orienteering club "Stiga" (Daugavpils, Latvia) invites to orienteering competitions "Summer Challenge" , which this year will be held on August 12.
Within 1 day, the participants will compete on a long distance on the already-loved map "Tartaks" from the 1st and 2nd days of "Kāpa 2017".
More information and bulletin in English: http://okstiga.com/.